English Version
Welcome to GREEK TREATMENT OFFICE !
MASSAGE・ACUPUNCTURE・MOXIBUSTION
☆ Alternative Medicine ☆ Oriental Medicine ☆
○Access TEL: 03-3258-3939 English available Telephone Reservation Recommended
○Treatment Course & Price
・Sport's Massage 3,000Yen/30minutes 6,000Yen/60minutes 9,000Yen/90minutes
・Sport's Aroma Massage
4,000Yen/30minutes 8,000Yen/60minutes 12,000Yen/90minutes
・Medical Massage 3,000Yen/30minutes 6,000Yen/60minutes 9,000Yen/90minutes
・Acupuncture・Moxibustion Treatment
3,000Yen/30minutes 6,000Yen/60minutes 9,000Yen/90minutes
○Location
Toukai・kanda-blg.5F, 3-15-10, Uchikanda, Chiyoda-ku, Tokyo, 101-0047 JAPAN
 Only one minute from the west gate of Kanda Station, just next to Tokyo Station
(JR Yamanote Line, Chuou Line, Keihin・Touhoku Line, Subway Ginza Line available )
  Going out of the west exit of JR, you can see the shopping district 's gate like arcade just      ahead.
  Turning to the right at the first crossroads after through the gate, please go about 40m along
   the left side of the road, passing a crossroads.
You can't miss the Greek egean signboard placed at the entrance of the building.
  Please see the following map.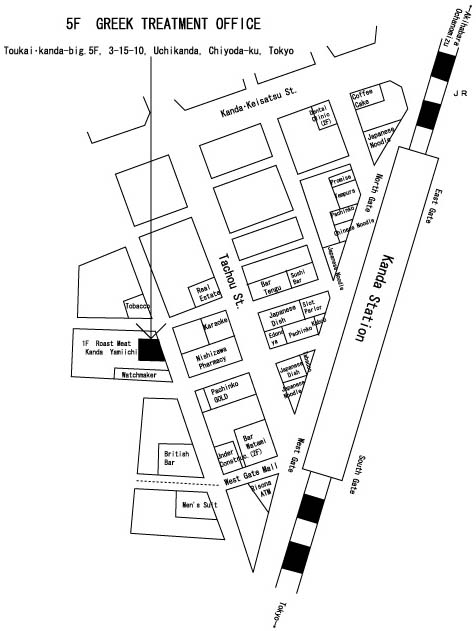 ○Office Hours
Monday to Friday  : AM 10:00-PM10:00 (last reception PM8:30)
Saturday&National Holiday  : AM 10:00-PM9:00 (last reception PM7:30)
Sunday   : Closed
○Profile Y. MATSUMOTO
After graduating from Tokyo University, he was engaged in the R&D of pharmaceuticals
in the big food company including the study abroad in Germany.
Recognizing the limits of western medicine, especially on the diseases deeply connected to
nerve or spirit, he entered the Toyoshinkyu college, the top one in Japan on the area of     oriental
medicine such as massage, acupuncture, moxibustion.
Piling up the medical study and technology learning during 3 years, he graduated from the college
  and simultaneously have obtained national qualification through the national examination,
   continuing the treatment in the actual clinical place until now.